It always amuses me, the fuss over "Bloomsday", as if
Ulysses
had been required reading at school, and was a familiar and fondly-recalled experience for the entire English-speaking world. It won't be long before someone thinks to make it a national holiday, and it appears printed in calendars, along with all those other anniversaries, meaningless to most of us.
I had the misfortune to study English at a university that dealt with the literature of the entire twentieth century in the first year; we studied it for an eight-week term, were examined in it at the end of the year, and then forgot about it. Joyce, typically, might have been given a week's attention, perhaps two. Next! As I had already read
Ulysses
, and
Dubliners
, and
Portrait of the Artist
, it was one of the easier weeks for me. I did take a look at
Finnegans Wake
, decided puns in Sanskrit were not my thing, and slowly backed away.
I say I had read
Ulysses
, but I had come nowhere near to understanding it. I doubt many
English
English students ever did, though in many ways James Joyce
was
English literature in the 1960s and 70s, a bottomless playpit of linguistic cleverness, in which to exercise one's own linguistic cleverness. I'm sure I wrote a perfectly acceptable essay on it, pointing out the structural links to Homer, the revelling in style-for-style's-sake (one lacked the critical vocabulary, back then, to detect the ironic presence of the "post-modern" in the work of the arch-modernist), the multi-layered humanity, the delightful taste of the language on the tongue, the sheer artfulness of it all.
But I didn't understand it. At all. For a start, I couldn't have pointed to Dublin on a map. I couldn't have pointed to "Ireland in 1904" on a map, either. The Prof asked me yesterday morning, "Why is Bloom Jewish?" and I realised I had no idea. I'm pretty sure I had no firm idea of what it meant to be Jewish (or anti-semitic, come to that) -- or even what it meant to be Irish -- when I originally read the book, aged 18. (I have told you I was an idiot, haven't I?)
Well, by the end of the day I was considerably wiser. The BBC has done us all all a service by dramatising the book in nine chunks broadcast yesterday. What a revelation! The cleverness fell away, and the human drama emerged, like one of those optical tricks where the apparent foreground recedes and the rabbit becomes a woman in a large hat. The breadth and depth of Joyce's humane sympathies shone through, and I pulled my old copy from the shelves, amazed by what I had missed all those years ago, that multiplicity of voices. Yes, they were really there, but I had simply lacked eyes to see, ears to hear.
If you have the remotest interest in Joyce, and missed yesterday's broadcasts, then do make the effort to listen: they're all available on the BBC iPlayer. I also recommend
this article by Colm Tóibín
, writing in yesterday's
Guardian Review
on Joyce's Dublin. His insight into the world of "The Dead", the last and greatest story in
Dubliners
, is acute. It would never have occurred to me to link Dublin, Barcelona, Calcutta and Edinburgh in the way he does -- capitals without parliaments, cultures divided by language -- but then I'm English, aren't I?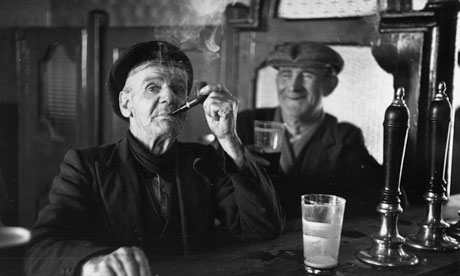 Photograph: Bert Hardy/Hulton Archive/Getty Images